Rochester, NY Medical Professionals Divorce Attorney
If you are a medical professional facing a Rochester divorce, it is crucial to seek the assistance of a qualified divorce attorney who specializes in family law. With complex financial assets and unique concerns regarding child custody, child support, spousal maintenance, and asset division, having an attorney who is experienced in handling divorces for medical professionals is essential.
A skilled family lawyer can help you navigate the complexities of divorce and ensure that your legal rights and interests are protected. Whether you are a physician, surgeon, dentist, or another medical professional, an attorney from our firm, Trotto Law Firm P. C., can provide the guidance and representation you need to achieve a favorable outcome in your divorce case.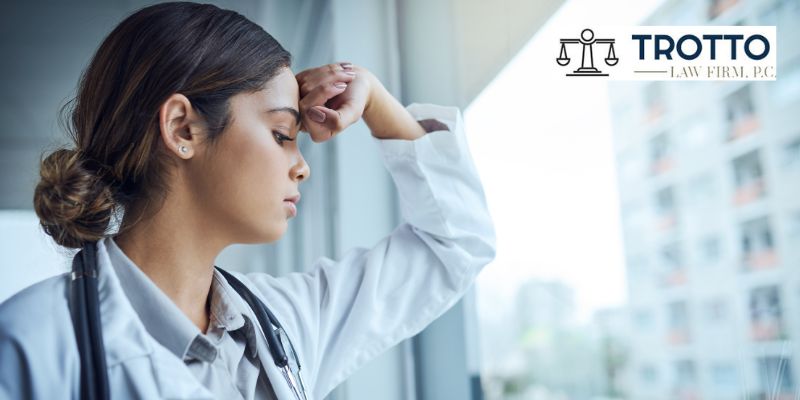 Medical Professional NY Divorce Advice
Divorce can be a difficult and stressful process for anyone, but it can be especially complex for medical professionals in New York. If you are a medical professional who is contemplating divorce, here are some key pieces of advice to keep in mind:
Protect your practice. Your medical practice is likely one of your most valuable assets, so it's crucial to take steps to protect it during your divorce. This may involve retaining a business valuation expert to determine the value of your practice and working with an experienced divorce attorney to negotiate a fair division of assets.
Plan for child custody. If you have children, it's important to develop a parenting plan that works for both you and your soon-to-be ex-spouse. As a medical professional, you may have a demanding work schedule that requires you to be on-call or work long hours, so it's important to consider how this will impact your ability to care for your children.
Address spousal maintenance. Depending on the circumstances of your divorce, you may be ordered to pay spousal maintenance to your ex-spouse. It's critical to work with an experienced divorce attorney to ensure that any agreement is fair and reasonable.
Protect your assets. As a medical professional, you may have significant assets that are at risk during your divorce. You should work with an experienced divorce attorney to develop a strategy for protecting your assets and ensuring a fair division of property.
Prioritize your mental health. Divorce can be a highly emotional and stressful process, and it's important to prioritize your mental health during this time. Consider working with a therapist or counselor to manage the stress and anxiety of the divorce process and to develop a plan for moving forward after your divorce is finalized.
Overall, the key to a successful divorce for medical professionals in New York is to work with experienced professionals who can help you navigate the complex legal and financial issues that are involved.
Protecting Your Assets in a Divorce as A Medical Professional
If you are a medical professional going through a divorce in Rochester, New York, it's important to take steps to protect your assets. Here are some strategies to consider:
Document your assets. Make a detailed list of all your assets, including any property, bank accounts, investments, and retirement accounts.
Consider prenuptial or postnuptial agreements. A prenuptial or postnuptial agreement can help protect your assets by outlining the division of property if there is a divorce.
Be strategic about asset division. If the couple cannot agree on a division of assets, a judge will divide the assets.
Consider a trust. Placing your assets in a trust can help protect them from being divided during a divorce.
Protect your business interests. If you own a medical practice, it's important to take steps to protect your business interests during a divorce.
By taking a proactive and strategic approach to your divorce, you can protect your interests and move forward with confidence.
FAQs About Rochester, NY Divorce Laws
What Is an Average Retainer Fee for a Divorce Lawyer in New York?
In general, it is not uncommon for a divorce lawyer in New York to charge a retainer fee that ranges from $3,000 to $10,000 or more. The retainer fee is an upfront payment that is paid to the attorney to secure their services, and it is typically held in a trust account and applied toward the attorney's fees as the case progresses.
Does Rochester, NY Require Separation Before Divorce?
Yes, New York State requires a period of separation before a divorce can be granted. Under the New York Domestic Relations Law, a married couple must live separately and apart for a period of one year before they can file for divorce. However, living separately and apart does not necessarily mean that the parties must physically live in different homes.
Does It Matter Who Files for Divorce First in NY?
No, it does not matter who files for divorce first in New York. The state of New York adheres to a no-fault policy, which means that either spouse can file for divorce without having to prove any specific fault on the part of the other spouse. In New York, a divorce can be granted on the grounds of an irretrievable breakdown of the marriage, which simply means that the marriage has been broken down irretrievably for at least six months.
What Are the Five Stages of Divorce?
Denial, anger, bargaining, depression, and acceptance. It is important to note that not everyone will go through all of these stages, and they may not occur in a linear order. Each individual will experience divorce differently and may go through the stages at their own pace. Seeking the assistance of a therapist or counselor can be helpful in coping with the emotional challenges of divorce.
Top Tier Legal Representation for Medical Professionals
If you are a medical professional in Rochester, NY, and are facing a divorce, it is essential to have an experienced divorce attorney who specializes in family law by your side. At Trotto Law Firm P. C., we understand the unique challenges that medical professionals face in divorce cases. We are here to help navigate you throughout the legal process and protect your interests. Contact us today to schedule a consultation and learn more about how we can assist you in your divorce case.